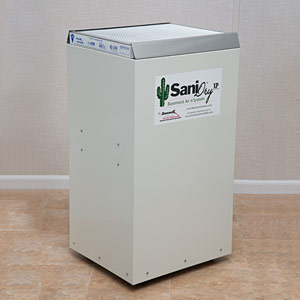 For most basements, our SaniDry™ XP Basement Air System is the ideal choice. This model can easily be stored in a corner or closet so it doesn't interfere with a finished basement.
System features:
Digital control panel
Ductwork compatibility for drying finished spaces
Removes up to 109 liters of water per day
Dries up to 2,500sq. ft. in a 8 ft. high basement
Air filter removes particles as small as 2 microns
Aprilaire Dehumidifier
Adding an Aprilaire dehumidifier creates healthy air and can reduce the number of viable viruses in the air to less than 1% in two days' time when set to 50% RH.
Benefits of Aprilaire:
Can reduce airborne viruses and contaminants
Keeps indoor air healthy
Removes musty smells and odors
Makes your home drier and more comfortable
Saves energy
We can help you create a drier, healthier home!
If you've waterproofed your basement, a reliable, low-maintenance dehumidifier system is a final touch that makes a big difference! You'll love how dry and clean our systems can make your basement feel! These systems work perfectly with our other basement waterproofing products or as a standalone option.
To schedule a dehumidifier installation quote with one of our experienced waterproofing professionals, contact American Waterworks by phone or e-mail today! We proudly serve Fargo, Minneapolis, Rochester, St. Cloud, Bismarck, St. Paul, Eau Claire, Eden Prairie, Burnsville, Maple Grove and many surrounding areas in Minnesota, North Dakota, Iowa, and Wisconsin.